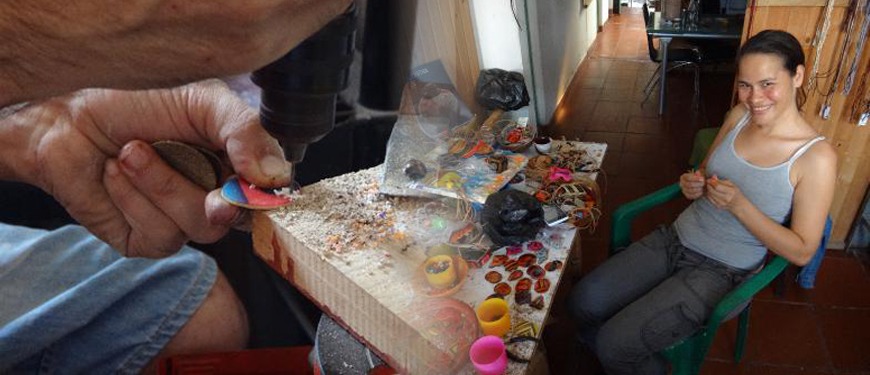 Mission, Vision & Values

Mixy Fandino produces unique handmade jewellery and accessories, inspired by the indigenous traditions of pre-Spanish Colombia. Traditional process and South American colours, with an exciting contemporary edge.
Our mission is to promote, develop and support Colombian artisans and their work by commercialising their unique handmade jewellery and accessories through our distribution channels in the UK.
To start selling our fair trade jewellery and accessories through the internet not just in the UK but all over the world. We will keep using social media tools to reach greater audience and to inspire people with our unique fair trade products.
To expand beyond the UK market, we will focus on creating new business relationships with companies based in other European markets.
We enjoy connecting our artisan partners with the support of organisations such as Department for International Trade (DIT). We also manage this through exhibiting our products in Trade shows in the UK and others European countries.
To expand and commercialise fair trade fashion accessories in the UK, as well as our unique jewellery in a dynamic and growing market. We will concentrate on finding the artisans that can create unique and authentic designs under high-quality standards.
Benefit of the artisan: Our work is always focused on what benefits our artisan producers in order to improve their professional development and their quality of life.
We are open to a new ideas and projects that could benefit the producers in their own professional development and commit to achieve their goals. Mainly our suppliers have established employment programmes for women who are also the main providers of their families.
Cultural Legacy: We work closely with our producers as a team, helping our local artisans in Colombia by selling their meticulous work overseas. We help to sustain cottage industries and also preserve their authenticity and recuperate the Cultural Legacy of Colombian crafts as a way of life. Spread to Concept of Fair Trade: Helping people in understanding the importance of fair trade and also highlighting the differences between fair trade and non fair trade products.
As a Fair Trade organisation we are spreading the word "Fair Trade". It is essential that consumers continue to see the differences and know the principles behind the concept of fair trade and why it is so important. We are working towards improving the living conditions of the producers and striving for better ethical trading practices, as well as paying fair prices to producers for their work.
We are responsible to keep creating the awareness of the social quality of fair trade products and making a real difference.
Email us
If you'd like to get in touch, you can email us directly through our contact form. We will respond to your message as soon as we can.