Mola Fabric

We have some very Colombian products! Handbags and accessories made in leather but with an added piece of art – MOLA!
Mola is a decorative textile created in the tradition of Kuna Indians living on the Atlantic coast of Colombia.
Molas are created through the layering of fabric, each piece of fabric revealing the layer below. The inspiration for these designs originates from all the way back in the 1500s, when Kuna women used natural dyes extracted from vegetable fibres to paint geometric designs on their bodies.
A couple of centuries later these designs began to appear on clothing worn by Kuna women. By the 1900s, Kuna women were wearing long blouses decorated with molas, with designs expressing their traditions, myths, dreams and native fauna and flora.
Nowadays, representations have developed to reflect our modern world – with the themes of politics and our environment. Mola translates more literally as "clothing". And this clothing has traditionally been worn by Kuna women throughout their lives.
Each Mola pattern that is sewn into a Kuna woman's clothing marks a significant stage in her life; as each new life stage is reached, the previous Mola is removed, and a new one added – sewn in to represent the new pattern of the next phase of her life. The layering of the fabric is a beautiful metaphor for each new phase that is layered into a woman's life.
At Mixy Fandino, our unique creations are designed by a master of the Mola tradition. Our creators understand how to balance modernity with tradition.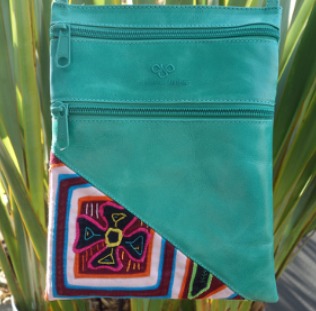 Our designs are entirely unique, each Mola handbag being a different balance of layers, patterns and colour that reflect the layered histories of women but also of Molas in our indigenous communities.
We care about keeping these customs and this identity alive and sharing these gifts of exotic, Colombian art with the world, meaning that we can also support local artisans while preserving the beautiful traditions of native Colombian culture.
If you would like to buy our unique Mola pieces online, including our handbags, makeup bags and accessories, then please visit our online store. These bags are exquisitely crafted using traditional techniques in Colombia and offer a quality that is rarely, if ever, seen on the UK high street.
Email us
If you'd like to get in touch, you can email us directly through our contact form. We will respond to your message as soon as we can.