Our Story

Mixy Fandino is originally from Bogota, Colombia, but has been living in London for the past 15 years. Back in Bogota, she used to work in finance and also she belonged to a number of different Colombian traditional dance groups such as Jaime Orozco, Edwin Flor and Eduardo Gomez Companies. After she moved to London as well as working in Accounting, Mixy participated in educational dance projects for children in London and also she became an active member of "Yurupari" the best-known Colombian dance group in the UK. She exhibits her jewellery at each of their performances.
Mixy Fandino jewellery was born in 2011 from Mixy's passion for fashion design and her love for Colombia and the inspiration that she gleans from the natural materials of her native country. Having lived in London for many years, she wanted to combine the latest Latin fashions with British trends by creating designs that fuse the two together and reflect both the culture and heritage of her country as well as the style and influences of Britain.

Mixy Fandino's designs are very vibrant and funky with a significant influence of Colombian culture and lifestyle. Colombia is an exotic and exciting country and nowadays more people want to know more about where the jewellery comes from. Mixy Fandino is proud to identify her brand with Colombian culture in the UK. As a committed Fair Trade member in the UK, our brand is raising awareness of the concept of Fair Trade. Through our unique and sustainable products we are helping customers to understand the importance of fair trade and also encouraging them to engage in fair trade shopping.
We are promoting, developing and supporting Colombian artisans and their amazing work by commercialising their unique handmade jewellery products through our distribution and our online retail store in the UK. Our high-quality products are made with care and skill from natural, sustainable and highly wearable materials – totumo, tagua and cotton-. Also, we are working with sterling silver using the ancient technique of filigree. We help to sustain cottage industries and also preserve their authenticity and sustain the cultural legacy of Colombian crafts as a way of life.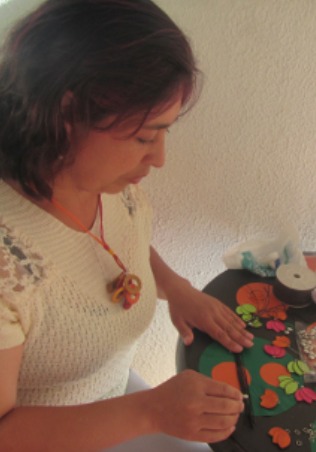 Our main target customers are women who choose to wear fashionable and original jewellery, which also supports ethical trade. We provide direction in terms of what is on trend in Europe while allowing the artisan partners the freedom of expression to create standout pieces that fuse the ancient and the modern. As a member of the British Association for Fair Trade Shops and Suppliers (BAFTS) www.bafts.org.uk since 2013 we ensure that work is guided by principles of mutual respect, social justice and equal partnership.
We are working towards improving the living conditions of the producers and striving for better ethical trading practices, as well as paying fair prices to producers for their work. As a Fair Trade organisation we are spreading the word for "Fair Trade". It is essential that consumers continue to see the differences and know the principles behind the concept of fair trade and why it is so important. We are proud that Mixy Fandino Ltd has been recognised as a fair trade supplier through BAFTS accreditation.

Mixy Fandino is the trading name of Mixy Fandino Limited, incorporated under the Companies Act of 1985 with the Registrar of Companies for England and Wales. Company registration number 8029357
Email us
If you'd like to get in touch, you can email us directly through our contact form. We will respond to your message as soon as we can.