Beyond Coffee and Diamonds: Fair Trade for the Latin American Female Artisan
Whereas many of us are familiar with the concept of fair trade raw materials, i.e. fair trade gold, diamonds, produce, grains and many other goods coming from all corners of the world, there is a small and powerful market rising in which artisans in Latin American countries are making use of raw materials in order to create decorative goods and jewellery.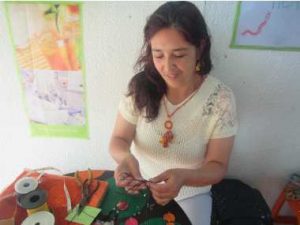 The crafting techniques used by these women are deeply embedded in their native traditions; they use production techniques that combine weaving, designing, sculpting, and even recycling to make jewellery and other decorative items. These goods have captivated the interest of international buyers, and the many women behind their production are now responsible for creating a steady supply to satisfy the foreign demand. At the same time, these women's lives are changing as they find themselves able to provide for themselves and their families and to attempt to rebalance gender relations.
A good example is the case of women in La Chamba, Colombia. La Chamba is a village in the Magdalena River Valley of south central Colombia with 2,000 inhabitants whose ancestry is deeply linked to the indigenous people that inhabited the region before the Spanish conquest. These women have a tradition of pottery, which they see as a characteristic of humanity, culture, and civilisations, and it serves as supplementary income due to the fluctuating wages of men in their agricultural jobs.
Pottery is a skill they meticulously pass on to their children, with special attention to their daughters. It is common for women in this region to live in matrilocal settlements, sharing food, clothes, child-rearing, and ceramics tasks. The joint production and sell of pottery products forms a matrilocal extended family that functions as a support network of social security that makes these women less dependent on men than is the case for the average Colombian family. However, one of the main complaints voiced by these women was that their pottery work was seen as a hobby and attributed low value in the local market (Bartra 2003).
Today, a quick internet search for La Chamba pottery will turn multiple results from fair trade organizations supporting these women's art and attributing it a fair value for the materials used and work invested. In this case, fair trade has boosted the sales of the already existing network of female artisans support in La Chamba, while granting them higher revenue and greater financial independence.civilisations
Furthermore, there are now many local entrepreneurs seeking to enable female artisans in their countries gain a share of the international markets by exporting their products and joining the online market arena. Such is the case of Mixy Fandino, a Colombian entrepreneur who started an online business venture that aims to distribute Colombian handmade jewellery to customers in the United Kingdom.
Mixy Fandino is quickly growing into its own brand, and it now helps many female artisans generate an income through a system of fair trade.
Mixy Fandino's website does a great job at not just marketing the products, but of also showing the consumer the materials, processes, and the real faces of the artisans.
Many of the female artisans involved in this project come from backgrounds with limited access to resources, and the fact that they are part of a system of fair trade enables them to get a fair price for their work and to gain independence in an environment that often does not favour their gender, as the data below will show.
Article continues on page 4 – reducing vulnerabilities through fair trade…