The introduction of fair trade has given female artisans in Latin America an opportunity to rise in a new market niche, and it requires the withholding of quality guidelines in which every party involved takes into account certain rules to protect themselves and each other.
For the artisans, it is important that the manufacturing of their products is made in a way that is not damaging to the environment, that workplaces are safe, that cultural traditions are preserved, and that their products continuously evolve to adapt to a changing international demand.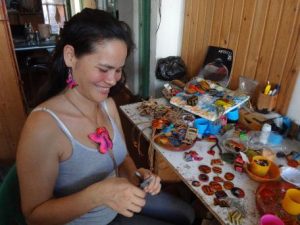 Retailers are responsible for marketing and distributing fair trade products at a reasonable price, and in the current climate of the advertising industry, they face the challenge of educating consumers on why choosing fair trade is in line with social justice and fostering development in the artisans' communities. The consumer is responsible for understanding what their money is supporting, and even to ensure that the fair trade label on their product carries the complete ideology of social justice in the marketplace.
Finally, third-party organisations that certify fair trade products need to be strict with their guidelines to ensure that the market and the lives of these artisans are, in fact, being transformed for the better.
Fair trade has already proven to be a successful vehicle of empowerment, especially among communities of women in developing countries who have formed fair trade cooperatives to help each other.
The case in La Chamba is one of many examples in which women have been economically empowered through fair trade. Another prime case is found in one of the "Unidas para Vivir Mejor" (UPAVIM, United to Live Better) settlements, which was born in Guatemala in the 1980s, in the midst of a civil war, with the intent to generate income for desperately poor women. In less than 10 years, the women created a development project that is able to cater not only to the needs of its 60 members and their families, but also to those of the entire community. The expansion of UPAVIM is mainly due to the success of the production of crafts for export through fair trade.
However, the effects have spilled over to other substantial areas of development: these women are now capable of making a significant contribution to their households, and are growing in awareness of the ideology of machismo and how it affects their entire lives, while also struggling to transform gender relations within their families (Milgram and Grimes 2000).
Article continues on page 5 – economical growth and development…