The largest challenge that fair trade artisans and retailers face is educating the public of the importance of rebalancing power structures in the global economy.
The consumer is acquiring a product in exchange for money, but what is given is far beyond the scope of what money can buy. We have already visited how having access to financial resources provides female artisans in Latin America an opportunity to stand on their own, and to contribute to their families and communities.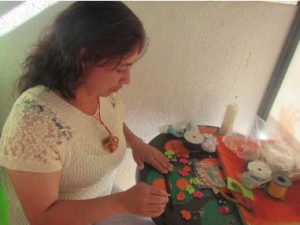 Fair trade serves as an alternative job prospect for people who do not have access to other means of acquiring skills, fair trade is also a response to the corporative abuse of "cheap labour" in developing nations, which resulted in child labour and the creation of sweat shops with unsafe conditions for workers as well as exploitative wages.
It is hence imperative to think of the long term effects of this exchange as providing business opportunities to the small-scale artisan, empowering women economically, and stimulating developing economies are contemporary tools with amazing potential to create so much more in the future.
Considering the lack of infrastructure and resources that are often readily available in developed nations (i.e. education, healthcare, roads, transportation, and drinkable water), the families and communities in rural areas of developing countries that acquire more resources are able to provide better opportunities for future generations.
A family that can afford to travel to another part of the country on a regular basis may now be able to find a school their children can attend there, they can find a hospital for their sick relatives, and improve their living conditions overall.
If followed strictly, fair trade is not just a system of global exchange, it is not just means to generate money, it becomes a tool of power for those with scarce opportunities, and a tool for the betterment of an economic system that has long been polluted by the notion that money supersedes human value.
References
Bartra, Eli. 2003. Crafting Gender: Women and Folk Art in Latin America and the Caribbean. Durham: Duke University Press.
Dragusanu, Raluca, Daniele Giovannucci, and Nathan Nunn. 2014. "The Economics of Fair Trade." Journal of Economic Perspectives 217-236.
Hutchens, Anna. 2009. Changing Big Business: The Globalisation of the Fair Trade Movement. Northampton: Edward Elgar Publishing, Inc.
Littrell, Mary Ann, and Marsha Ann Dickson. 1999. Social Responsibility in the Global Market: Fair Trade of Cultural Products. London: Sage Publications, Inc.
Milgram, Barbara Lynne, and Kimberly M. Grimes. 2000. Artisans and Cooperatives: Developing Alternate Trade for the Global Economy. The University of Arizona Press.
Muñoz Boudet, Ana Maria. 2011. The World Bank. September 22. Accessed April 4, 2015. http://blogs.worldbank.org/latinamerica/latin-america-women-still-struggle-for-equality-at-work-and-at-home.
The Economist. 2013. The Economist. September 21. Accessed May 4, 2015. http://www.economist.com/news/americas/21586575-laws-punish-domestic-violence-are-too-often-honoured-breach-everyday-aggression.