How to Wear Chunky Jewellery: The Dos and Don'ts
Powerful, elegant, and bold, chunky jewellery is in your must-have list of what to wear, and here is a quick guide to help you wear it best.
Dos
Wear with a T-shirt. This can give the simplest outfit a boost and make it seem more upscale and fashionable. Try it with v-necks or a high neck top, trust us, both looks are begging for a statement necklace.
Wear at Work. You can wear chunky jewellery to work, in fact, a well combined chunky piece of jewellery can give your outfit an edge to make you stand out at meetings or presentations.
Looking professional can also be fun!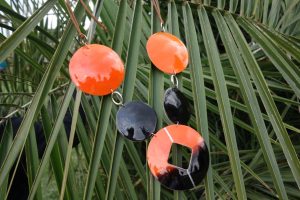 Add Layers. You can wear more than one piece of chunky jewellery at once. Mix a few chunky necklaces around your neck for a fun look, or wear multiple chunky bracelets that look exotic on your wrist. The rule is to not wear both chunky necklaces and bracelets at once.
Mix and Match. 80s fashion left us a legacy of rules that we can't seem to be rid of as they stand as misconceptions. For example, the notion that silver jewellery should be worn with silver, and cannot be mixed with gold. This rule has been overthrown, so feel free to mix metals and patterns, as well as multiple colours in one piece.
Coordinate Colours. If you are wearing a colourful outfit, you will look your best by finding colourful jewellery pieces that match the palette. It doesn't have to match the exact colours on your outfit, but the shade should fit with the other tones.
Don'ts
Get Chunked Up. If you are going for a chunky necklace, avoid wearing chunky earrings or bracelets with the same outfit as the look will seem overdone, and you will lose the focal point.
Always Follow Trends. Trends come and go, and sometimes we like them and sometimes we don't. Right now choker necklaces are all the hype, but if that is not you, don't feel pressured to wear them.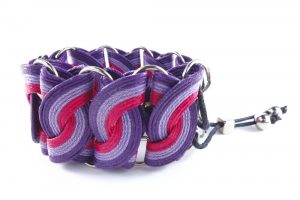 Statement pieces are meant to show off your personality and should be worn comfortably, so stick to pieces you love.
Over-accessorise. If your top or dress already has a detailed neckline, skip the chunky necklace because it is not needed. Don't fret! I love my jewellery too, but go for a chunky bracelet, or intricate earrings to compliment your outfit.
Buy Chunky Jewellery Online
To buy chunky jewellery online, look no further than Mixy Fandino's online jewellery store – fair trade jewellery produced with incredible beauty and attention to detail, that you will not find on the UK high street chain stores.